DN SCEF
The SCEF Network Node is defined by 3GPP. The DN SCEF contains the 3GPP SCEF functions (including MTC-IWF and IWK-SCEF), plus we address the 3GPP shortcomings and offer the embedded applications that are part of our DN 5G Platform.
One limitation of the 3GPP standard SCEF is that 3GPP has not defined security mechanisms. Any Enterprise can access any device. DN SCEF can utilize per-Enterprise whitelists to provide security, as illustrated below.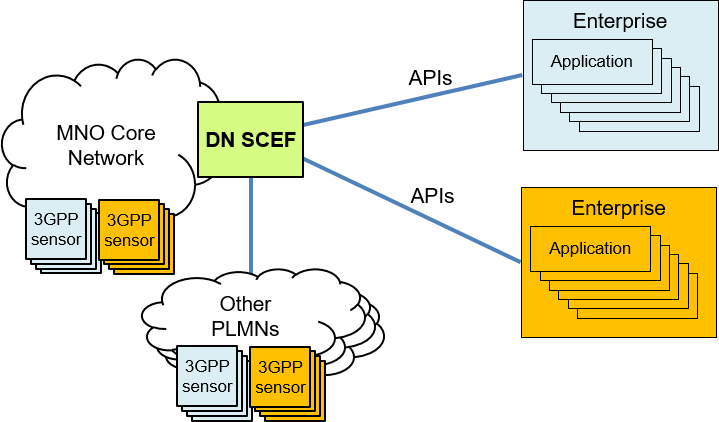 Above, we have illustrated two Enterprises, each with its own UEs. We show one Enterprise and its UEs in the color blue, and the other in the color orange. DN SCEF utilizes per-Enterprise whitelists, allowing only blue-to-blue or orange-to-orange communication.
The embedded applications of our DN 5G Platform are described in our Solutions, such as, Congestion Avoidance. These applications are available in DN SCEF.
The figure below presents a logical view of the 3GPP-defined features in DN SCEF. In Release 15, 3GPP defined the name "T8" as the interface for the APIs with SCEF.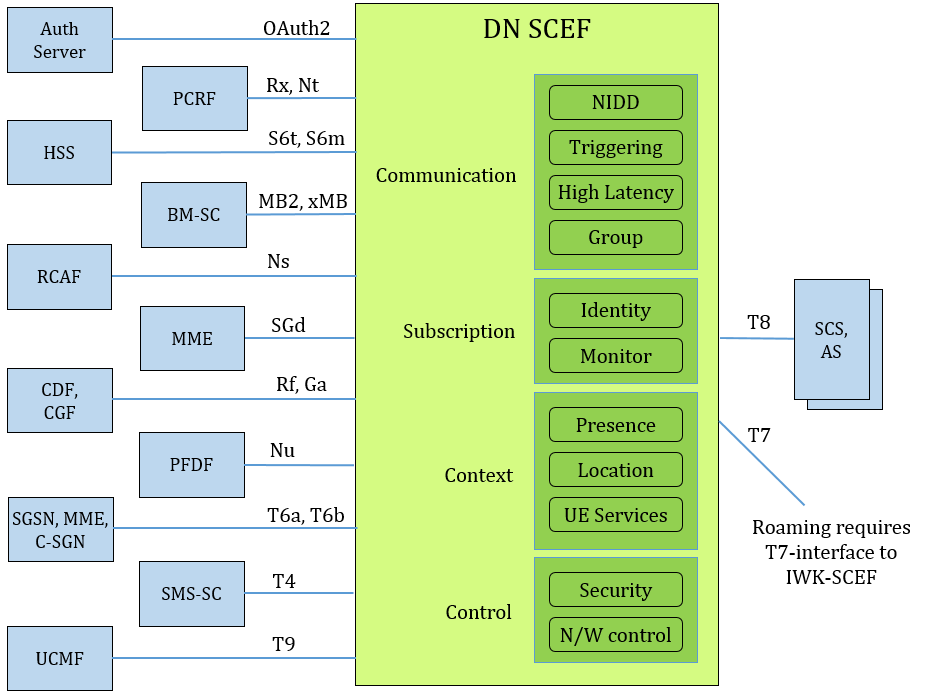 As illustrated, there are lots of interfaces and lots of complexity. Fear not, in this primer we are keeping the descriptions simple and not going into the details.
3GPP Features of DN SCEF
In Release 13, 3GPP defined SCEF to be the interface for small data transfers and control messaging between Enterprises and the Operators Core Network. SCEF provides APIs to the Enterprises for the small data transfers and control messages, and uses 3GPP-defined interfaces with the network elements in the Operators Core Network in its performance of its functions. The major features of SCEF are the following.
Exposing Capabilities for New Revenue
As mentioned above in the APIs and AAA section, APIs expose network capabilities and Operators may charge for using the APIs. The APIs enable many use cases for applications by the Enterprise.
Summary
There are many 3GPP documents related to SCEF functionality, and many details of 3GPP-defined functionality are available. Here, we have just touched on a few of the aspects. Hopefully, the enormity of the opportunities created by SCEF, as well as, the complexity involved in SCEF are now apparent. NIDD has resulted in a requirement for SCEF deployment to support LPWA technologies like NB-IoT. In addition, a multitude of new APIs offer the opportunity to generate new revenue.
Despite the above, a 3GPP standard SCEF is hampered by limitations in the 3GPP specifications. With the improvements over 3GPP provided by the DN SCEF, along with the applications of our DN 5G Platform, the DN SCEF has become the front runner for SCEF and related technology.