DN Service Core
Services can most effectively and efficiently be deployed as part of a Service Core, as illustrated below.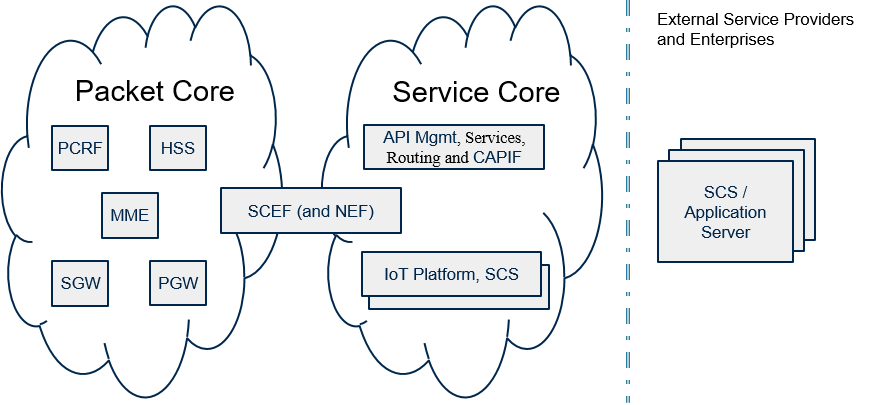 The operations/functions of the Packet Core and Service Core are quite different.
Packet Core:
3GPP protocols
3GPP connectivity
UE mobility
UE subscriptions
Service Core:
API management, API services, API routing
Services and applications
Device management and servers (e.g., LWM2M, MQTT Broker)
Policy enforcement (Enterprise SLAs)
Connectivity (3GPP and non-3GPP)
Data acquisition and storage
The SCEF (and 5G NEF) uses its 3GPP protocols to connect the Service Core to the necessary Packet Core nodes.
Standardization has provided great benefit to the Packet Core and the network nodes within the Packet Core. Standardization is lacking in the Service Core, and so integrating the Service Core network nodes provides a comprehensive solution. Our DN Service Core provides an integrated solution, as illustrated below.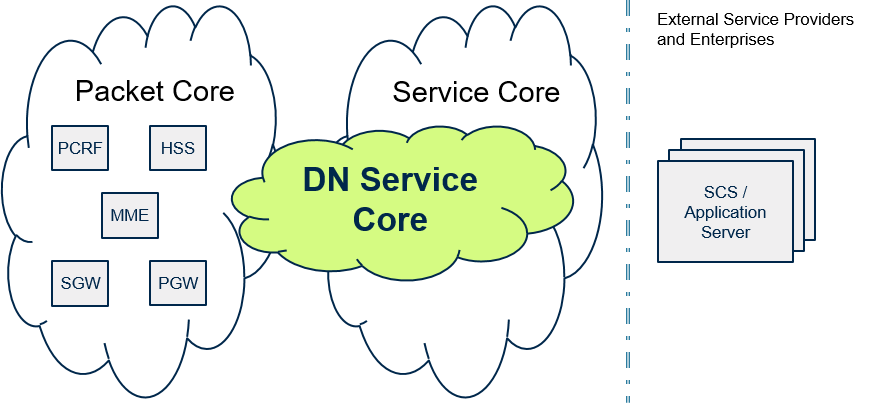 By comparing the previous two illustrations, we see that the DN Service Core includes these functions:
API Management, API Services, API Routing and CAPIF
SCEF and NEF
IoT Platform(s) and SCS(es)
Since the DN Service Core includes both SCEF and NEF nodes (or an integrated SCEF+NEF), it provides access to both EPC (and earlier) and 5GC networks.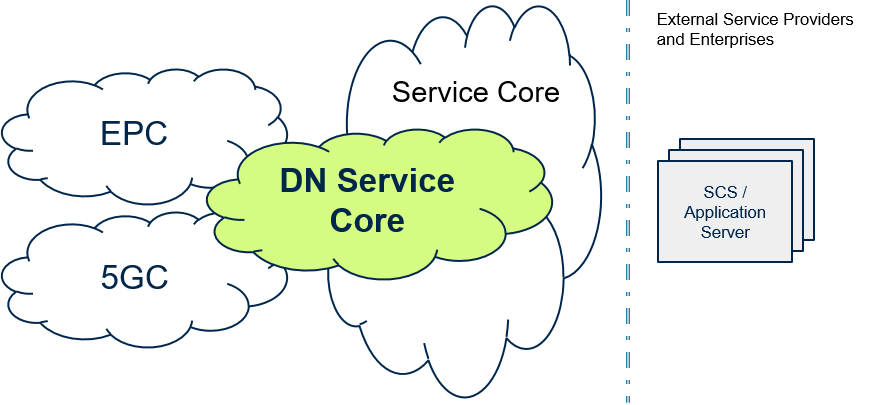 In addition, our DN Service Core includes many applications, which provide the many benefits we describe in the Solutions. These applications are part of our DN 5G Platform.
The DN Service Core is able to support a variety of business models, depending on the Operator requirements and deployed services. Models range from traditional licensing to subscription or usage-based models. In addition, capital expenditure by the Operator can be avoided, by deploying a revenue-share business model to divide the revenue between the Operator and the provider of the DN Service Core. Please Contact Us to request further information.